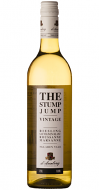 The Stump Jump White D'Arenberg
Riesling gives the finesse and class to this wine, Sauvignon blanc adds loads of aromatics, and the Marsanne and Roussanne provide complexity, weight and nuttiness to the palate.
The resulting wine is an exotic mix of citrus, stone fruits, passionfruit, guava and tinned pineapple which develops into a long savoury, nutty like finish.
The mouthfeel is rich and luscious without being overly oily, kept in check by a fine line of mineral acidity.