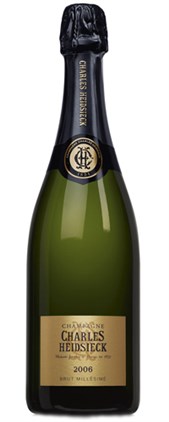 Charles Heidsieck Brut Millesime Vintage 2005
Charles Heidsieck is one of the most admired Champagne houses thanks to the...
unrivalled and consistently high quality of its wines. Founded in 1851 by the man who would become known as 'Champagne Charlie', this family-owned house is the smallest of the Grandes Marques. Their size, and commitment to excellence, has been underpinned by a winemaking team that between them have been named 'Sparkling Winemaker of the Year' at the International Wine Challenge 15 times.

Vintage Information
2006 experienced an exceptionally hot and sunny June and July with grapes in fine condition but a damp August left producers fearful of under-ripeness. Fortunately, warm, bright conditions in September redressed the balance. The resulting wines are supple and expressive.